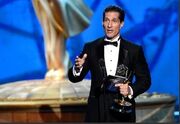 SouthLAnd's Emmy count is growing every season. Stunt Coordinator, Peewee Piemonte, walks away with his second Emmy for his work on the raw and heartstopping show! "I credit the perfect team for this win", speaking of his 2012 win. "It takes all departments being outstanding...for a show to win gold once...not to mention twice."
Ad blocker interference detected!
Wikia is a free-to-use site that makes money from advertising. We have a modified experience for viewers using ad blockers

Wikia is not accessible if you've made further modifications. Remove the custom ad blocker rule(s) and the page will load as expected.